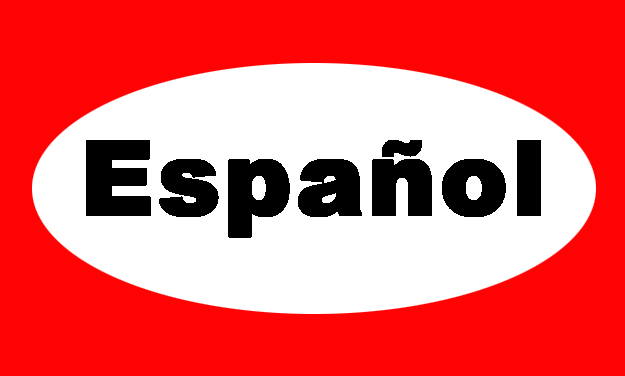 FRANKIE HUERTAS Grand Master and Dai Soke - Jūdan / 10th Dan
Frankie Huertas – Grand Master was born and raised in Brooklyn, New York on 27 November 1951. Sensei as he prefers to be called is currently teaching at "Warrior's Red Dragons Karate" in Orlando, Florida. Retired Marine/Army instructor who brings over 45 years combined fitness experience. Certified Master Fitness Trainer by the Department of the Army. Founder of the Warrior's Red Dragons Martial Art producing National and Regional Champs out of Region Five, Missouri. Boxer, United States Marine Corp, Army and the streets of Brooklyn, New York. Studied the Martial Arts in Okinawa, Korea, Germany, Spanish Harlem, Texas and Missouri. Studied under the "Legendary" Grand Master Wildcat Molina who is his Hanshi. On February 4, 2011, Frankie Huertas Sensei was inducted into the Midwest Martial Arts Association Southern Conference (MMASC) Hall of Fame for his outstanding involvement and contribution in the development, growth, teaching, coaching and competing in the Martial Arts. He is forever enshrined at: http://www.mmasc.net/halloffame.html. On November 5, 2011, Frankie Huertas Grand Master was inducted into the American Federation of Martial Arts Hall of Fame / Hall of Honor. He was also inducted into Action Martial Arts Magazine Hall of Honor as Ambassador of the Martial Arts, Bronze Award for over 30 years of contribution to the Martial Arts at the Tropicana Casino & Resort in Atlantic City, N.J. hosted by Sifu Master Alan Goldberg on 25 January 2014. On June 21, 2014 Frankie Huertas Grandmaster was inducted into the Latin American Martial Arts Society LMAS Hall of Fame as Master Instructor of the Year.
His street education began in the project named Red Hook where he had to fight and know when to fight or run to survive in an environment filled with gangs, drugs and crime. He was the oldest of five; therefore he had no older brother to protect him and had to learn quickly to use his hands and feet when needed. At the age of 16 he walked into the school on Court Street. The instructor was Ronald Duncan and unknown to him his future uncle Jimmy Owens was also training there. His parents forbid him to continue training because of their religious beliefs but the seed was planted in his mind and heart therefore his journey on the Warrior path began. While stationed in Okinawa with the Marine Corp in 1970 he pursued his interest in the Martial Arts, like many soldiers on base. In 1975 he was living in Spanish Harlem when he was introduced to the Legendary Wildcat Molina, a Full Contact Fighter and first Puerto Rican Middle Weight Champ. He was one of a few who trained with then Sensei Molina in American Goju Ryu Karate until he joined the United States Army in 1978. Their paths would cross again. While in the Army as a Military Police he expanded his knowledge studying Tae Kwon Do and Hapkido in Korea. Eventually he was sent to Germany as a Combat Engineer where he had the opportunity to train under Renshi Clan Jacobs a Niesei Goju Ryu Karate Instructor. Like all soldiers his new instructor was given orders but turned over the Red Dragons Karate School to him, awarded him the title of instructor and awarded him his Brown Belt in Niesei Goju-Ryu Karate. A year later he was sent to Fort Wood, Missouri as a Combat Engineer Instructor.
It is there that he started the Warrior's Red Dragons Karate School in Region 5 with the assistance of his son Frankie Huertas Jr. On 3 May 1985 Renshi Clan Jacob awarded him his 1st degree Black Belt. Combining his knowledge in the Martial Arts, training as a boxer he received in Okinawa with the Marine Corp and Army, Master Fitness Trainer for the United States Army, Combat Training as a Military Police and survival in the streets of Brooklyn, he produced National and Regional Champs and ran the school in Missouri for approximately five years. One student went on to become well known. Her name was Nicole Cifarelli whose accomplishments are as follows: Six time National Champ in fighting; Seventeen Grand Championships; Two time NASKA triple crown winner; five years running in forms, fighting and weapons; inducted in the MMA hall of fame and NASKA Hall of fame shortly thereafter by Master Richard Osborne. Two students continue the path. Lewis Southwick (Hollywood) who is in Texas and Jason Dokie in California. Eventually Frankie Huertas Grand Master retired to Orlando Florida and communicated with his original Sensei the Legendary Wildcat Molina who was now Grand Master or Hanshi under Soke Peter Flores who was the first Soke of Puerto Rican heritage to come out of Spanish Harlem.
Soul-Ki Flores originally named his system Puerto Rican Goju-Ryu which was Sanction/Certified on 6 December 1978 by his instructor, Grandmaster Peter Urban consider the Godfather of American Goju Ryu Karate, who was taught by Gogen Yamaguchi "The Cat" the Japanese founder of Goju-Ryu Karate. Gogen Yamaguchi was taught by Chojun Mayagi, the Okinawan founder of Goju Ryu Karate (Remember Mr. Mayagi in the Original Karate Kid). The name of the style was changed to Duro y Suave, Manos Vacias in the early seventies. On 1 February 2008 Frankie Huertas Grand Master was appointed as the Official Florida State Representative of Duro Y Suave Manos Vacias. Per Frankie Huertas Grand Master it is important to know the history of the style which can trace its roots back to Mainland China. Frankie Huertas Grand Master was awarded his 3rd and 4th degree Black Belt under this system in person by his original Sensei, Hanshi Molina. Hanshi Molina frequently travels to Orlando to continue Grandmaster Huertas' training and training seminars for his students. Present at his 4th degree Black Belt promotion was Grand Master Bruce Moore Jr. (a student of Grandmaster Peter Urban), Master Apache Cruz and the Honorable Master David Washington. For his 6th Degree Black Belt, Kyoshi-Shihan, awarded 18 July 2009 by Hanshi Wildcat Molina, Honorable Masters David Washington, and Apache Cruz were present. On December 25th 2011 Sensei was promoted to 7th Dan. On May 2013 he was awarded his 8th Dan at the Home Dojo of Peter Flores Soul-Ki.
Sensei Frankie Huertas was elevated to Kudan/9th Dan on January 17, 2015 with the title of Grand Master. Present was his student Sempai Ines Trinidad, Grandmaster Maxwell Lane, Masters Franklin Puello, Master Hakim Rasheed, Shihan Toole. For approximately three years Kyoshi Frankie Huertas taught at the South Orlando YMCA & for a short period at the Osceola YMCA. He has opened his own School at 508 W Oak Ridge Road in Orlando, Florida. He expanded and moved to a larger location and teaches at 639 W. Lancaster Road in Orlando, Florida 32809. As of January 31, 2015, he now teaches at South Orlando YMCA.
On June 21, 2015, Grand Master Flores Vincent presented Sensei Frankie Huertas with the original Diploma given to Soul Ki by Peter Urban Grand Master as Founder of Puerto Rican Gojo (later change to Duro Y Suave, Manos Vacias) and announcing him as Soke (Dai Soke) by virtue of passing of OBI and Gi as Ordained by Soul-Ki prior to his passng at the Nursing Home and as witnessed by Grand Masters and Masters that were present. He was also awarded a certificate of SOKESHIP and recognized By The Universal Black Belt Society Sokeship Council AS THE SOKE OF DURO Y SUAVE, MANOS VACIAS endorsed by SOKES OF THE COUNCIL and William "Bill" Solano, Meijin/Founder.
On July 18, 2015, Grand Master Soul-Ki Frankie Huertas was awarded Grand Master of the Year at the American Fedration of Martial Arts Hall of Fame. On July 24, 2015, the United States National Grand Masters Federation appointed Grand Master Frankie Huertas to the Military Advisory Board.
On January 22, 2016, Soul-Ki Grand Master Frankie Huertas was promoted to Jūdan-10th Dan from the MMASC Grand Master Advisory Board.
For further information please visit: www.citykarate.com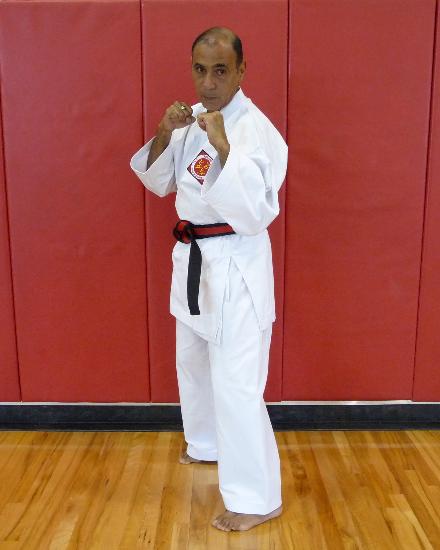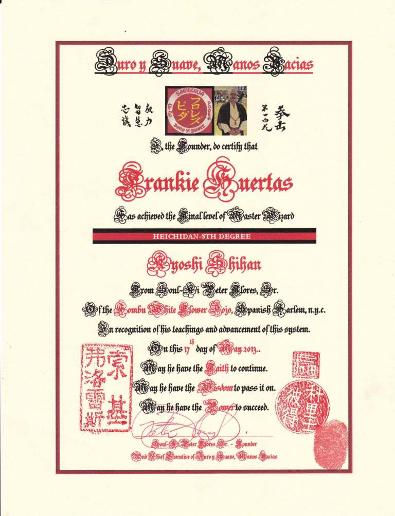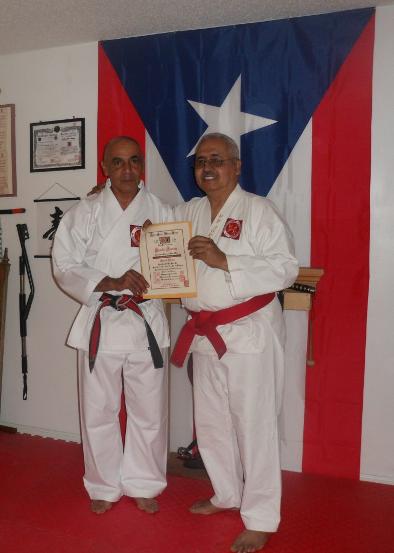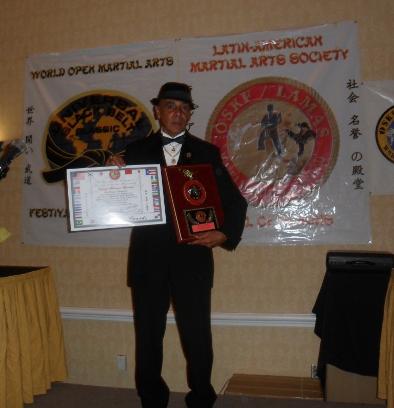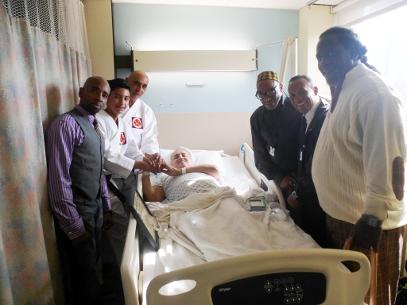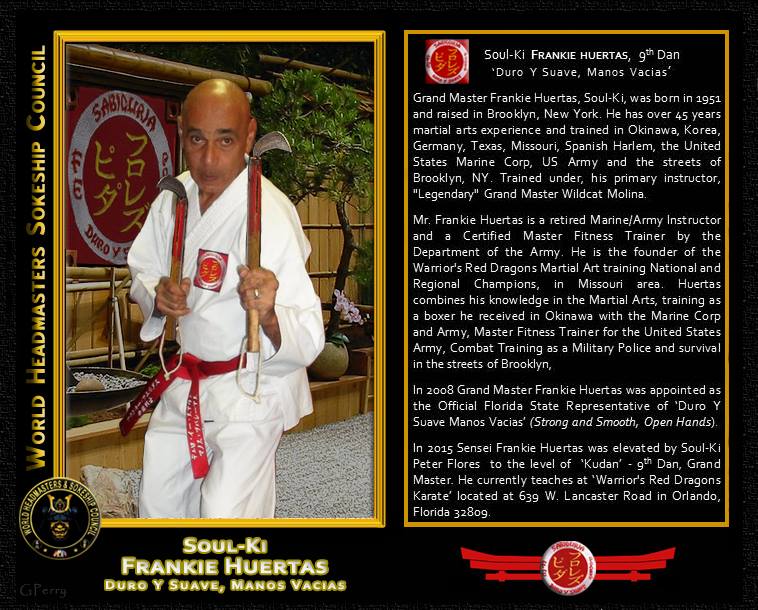 Soul~Ki Peter Flores, Sr.

In keeping with the ongoing transformations of the ever evolving system of Duro y Suave, Manos Vacias, I, as the creator/founder have decided that the new spelling of my title shall encompass a deeper and more meaningful and enlightening description. In keeping with my insistence that this system belongs to my students in it and not me as the Soke (creator and founder), I have transformed the meaning of Soke (creator and founder) to Soul~Ki (Care taker of the system). This will insure, in the generations to come, that Duro y Suave, Manos Vacias will always have someone in charge that will continue to evolve and pursue alternative development according to my wishes and the seven articles of the Mission Statement.
On 12/24/2011, Soul~Ki Peter Flores Sr was nominated and inducted into the World Headmasters & Sokeship Council. This is an International Organization which one has to be recognized as the bona fide Headmaster of a Martial Arts System or the Founder / Creator of one. One can not buy oneself into it. This is a great honor for Soul~Ki and the Duro y Suave, Manos Vacias system.
On 2/14/2015, Soul~Ki Peter Flores Sr passed away.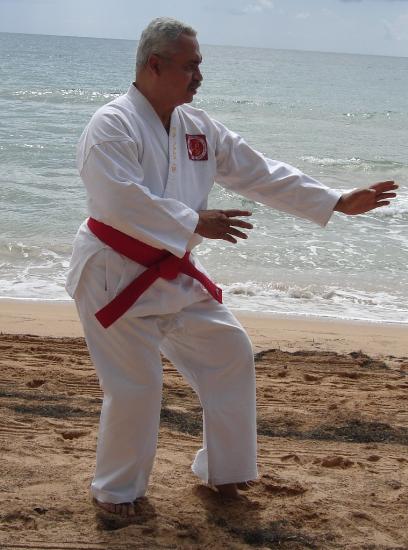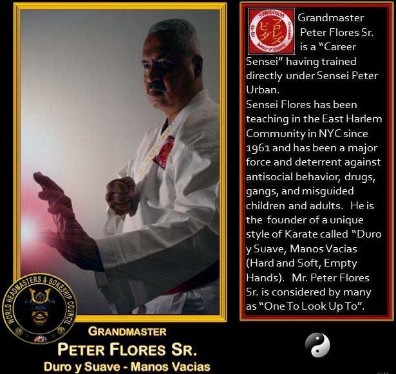 Full Contact Fighter, Promoter and Teacher, Hanshi Molina comes from the streets of Spanish Harlem, New York City. He has various championship titles in forms and fighting. "A KICK IS A KICK AND A PUNCH IS A PUNCH"